Oliver Liebig's research published in article by Ulrike Prinz
22.01.2021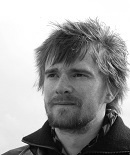 The findings of former doctoral candidate Oliver Liebig's research project were published in an article by Ulrike Prinz.
The article "Warum die Ikojts gegen die Windkraft kämpfen" explains why the Mexican indigenous group of the Ikojts considers wind energy contaminating. The entire story and more can be found in his book "Der Geist des Windparks".
To read more, click on the links above (article is in German).