Sasha Gora Gives Talk at UC Berkeley
02.04.2019
On Tuesday 2 April 2019, doctoral candidate Sasha Gora presented a talk on "Restaurants and Reconciliation: The Representation of Indigenous Foodways in Canada," sponsored by the Canadian Studies Program.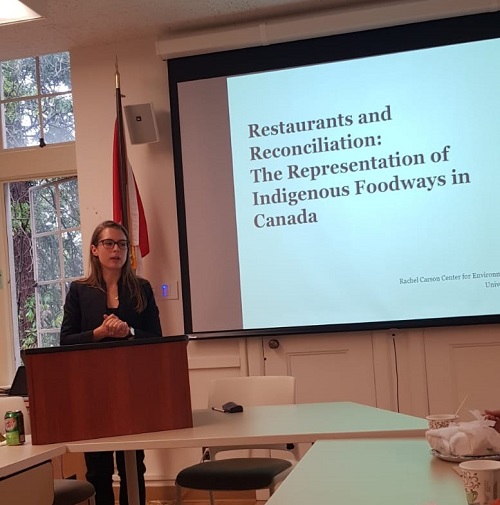 In her talk, Sasha looked at why there are so few Indigenous restaurants in Canada. Toronto has over 8,000 restaurants, but until October 2016 only one offered Indigenous cuisine. Since then, three more have opened, and others across the country. By narrowing in on restaurants, Sasha's talk surveyed the relationship between food and land in Canada and emphasized the historic role of food as both a weapon of assimilation and a tool of resistance. She also discussed how contemporary Indigenous chefs are cooking a lot more than just dinner.
Sasha joined the Rachel Carson Center as a doctoral candidate in 2015; she also teaches North American cultural history courses at the Amerika-Institut at LMU Munich. She is currently a visiting scholar in the Department of Ethnic Studies at UC Berkeley.